NFIR – National Holiday Allowance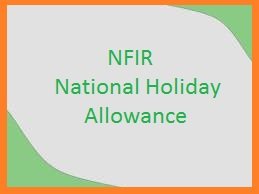 NFIR
National Federation of Indian Railwaymen
3, CHELMSFORD ROAD, NEW DELHI – 110 055
Affiliated to:
Indian National Trade Union Congress (INTUC)
International Transport Workers' Federation (ITF)
 No.I/5(g)/Part.V
Dated: 12/12/2014
The Secretary (E),
Railway Board,
New Delhi
 Dear Sir,
Sub: National Holiday Allowance-Upward revision of rate-urged.
Ref: (i) NFIR PNM Item No. 5/2013.
(ii) Railway Board's letter No. E(P&A)I-2013/FE-4/3 dated 02/05/2014.
While perusing contents of reply received vide Railway Board's letter 2/06/2014, cited under reference. Federation is disappointed to note that the Railway Board have ignored following key points while considering the rates of National Holiday Allowance in favour of selected categories of Railway Employees who are deployed to work on National Holidays to run and maintain services essentially on the Indian Railways:-
 The rates for payment of National Holiday Allowance (NHA) for performing duties on the National Holidays were originally fixed by the Railway Board consequent to implementation of the recommendations of Jagannadha Das Pay Commission and instructions were issued by the Railway Board vide letter No. PC-60/HL-2/1 dated 10th August 1961.
 The instructions dated 10th August 1961 had inter-alia laid down that for the purpose of calculation of basic pay as defined in Rule 2003 (21) (a) (i&ii) of R-II, full Dearness Allowance including Dearness Pay is to be taken into account. The instructions further provide that where the pay plus Dearness Allowance' falls in between the two slabs, the rate for the next higher slabs shall apply.
 NFIR reiterates that the concept of payment of National Holiday Allowance was introduced to compensate monetarily those railway employees who in the exigencies of services are not permitted to avail National Holiday but are compelled to perform duty to run and maintain services by ensuring additional payment of amount equal to 1 Vi times of wages (pay plus DA thereon).
2. NFIR has failed to understand that as to how the Railway Board vide letter No. PC-66/HL-2/2 dated 3/9/1968 have arbitrarily decided that the rates of monitory compensation have to be calculated only on basic pay (substantive or officiating) instead of pay plus D.A. The arbitrary decision of the Railway Board has changed the basis of computation of amount towards payment of National Holiday Allowance altogether to the disadvantage of the Railway Employees who work on National Holidays while others avail Holidays. The decision of the Railway Board and the comments sent by the Railway Board to NFIR in response to its PNM item No. 5/2013 vide letter dated 02/05/2014 is not justified and hence not acceptable to the Federation. Federation re-iterates that the minimum rate for payment of National Holiday Allowance should be fixed on the following principle for different categories of staff:-
"Illustration:- at one and half times of rate of minimum pay (5200+1800+107% D.A.). The rates of Dearness Allowance should increase by 25% every time the Dearness Allowance Payable on the revised pay structure goes up by 50%.
 Similar calculation need to be made for staff in different Pay Band & Grade Pay."
NFIR therefore, once again urges the Railway Board to kindly restore the formula as recommended by the Jagannadha Das Pay Commission and accepted by the Government of India for payment of National Holiday Allowance and accordingly issue instructions early to all Zones/PUs, duly endorsing copy thereof to the Federation.
 Yours faithfully,
Sd/-
(Dr. M. Raghavaiah)
 General Secretary
 Source: NFIR
Orginal Order – National Holiday Allowance