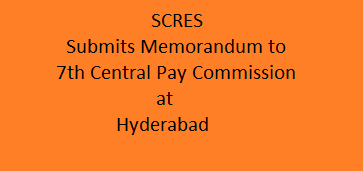 MEMORANDUM SUBMITTED TO THE MEMBERS OF VII CENTRAL PAY – SCRES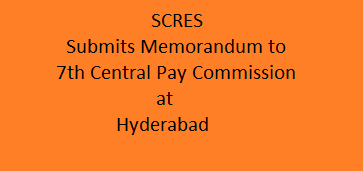 South Central Railway Employees Sangh
(Recognised & Affiliated to N.F.I.R & I.N.T.U.C.)
 CENTRAL OFFICE
311, Chilkalguda,
SECUNDERABAD – 500 025.
 No. SCO/VII Central Pay Commission/Vol.I (330)
 Date:19.11.2014
MEMORANDUM SUBMITTED TO THE MEMBERS OF VII CENTRAL PAY
COMMISSION DURING THEIR VISIT TO HYDERABAD ON 19.11.2014.
The South Central Railway Employees' Sangh an affiliate of National Federation of Indian Railwaymen would like to extend hearty welcome to the Members of VII Central Pay Commission headed by Justice Shri A.K.Mathur, Chairman to the historic twin cities of Hyderabad and Secunderabad. The Central Government has constituted VII Central Pay Commission to examine, review, evolve and recommend changes on the existing emoluments structure including pay, allowances and other facilities/benefits of the Central Government Employees.
The South Central Railway Employees' Sangh has been rendering valuable services to the Railway Employees over South Central Railway for the past six decades and has secured First Position in the recent Secret Ballot Elections held in the year 2013 for .granting recognition to the Trade Unions in South Central Railway.
The Railway Employees are dedicated work force, among whom the frontline as well as public image categories staff are directly connected with train operations, customer service, work round the clock including at the remote locations, away from all the civic amenities in an environment exposed to all vagaries of weather conditions, working against normal human biological clock, with sole mission of safe & efficient train operations in carrying the freight and passengers rendering the Indian Railways as Nation's life line.
The laid down Medical Standards in the Railways for recruitment of candidates through Railway Recruitment Boards/Railway Recruitment Cells for various categories are very tough particularly for the category of employees working in Operating Departments. Date: 19.11.2014.
 The salaries of Railway Employees are very low despite their working conditions are seemingly sturdy and are more vulnerable to the different climatic conditions. The duties of Track Maintainers and Technicians in Indian Railways are very much arduous in nature. The employees particularly in Running and Operating Departments of Indian Railways are performing very strenuous duties and are playing crucial role in the smooth running of trains. The frontline categories such as Commercial, Ticket Checking and ECRCs, who are dealing with public directly are performing their duties to the best satisfaction of travelling public without giving scope to complaints from any comers even though facing many odds.
Indian Railway is an unique system that cannot be comparable with any other organization of Central or Private Sector. The duties of Railway Employees are uncommon, uncomparable and complex compared to any other Central Government employees. Considering the uniqueness of Rail Industry, the complex and difficult working conditions, uncomparable job contents and exclusive responsibilities, SCRE Sangh requests improved pay structure for different categories of railway employees. Railway Employees needs to be encouraged by way of providing better working conditions, training and pay packages than other Government Sectors.
In this connection, South Central Railway Employees' Sangh wish to submit that our Apex Body i.e. National Federation of Indian Railwaymen already submitted its Memorandum to the VII Central Pay Commission vide Letter No. IV/NFIR/7th CPC/2013/Pt.II dated 28.07.2014 proposing various recommendations for revision of pay-structure and allowances payable to the Railway Employees.
We confirm the following proposals of pay-scales pertaining to railway employees as recommended by NFIR.
| | | | | |
| --- | --- | --- | --- | --- |
| SI.No. | Present PB | PB No. | Present Grade Pay | Proposed minimum of the pay scale (open-ended) |
| 1. | 5200-20200 | PB-1 | 1800 | 26000 |
| 2. | 5200-20200 | PB-1 | 2000 | 33000 |
| 3. | 5200-20200 | PB-1 | 2800 | 56000 |
| 4. | 9300-34800 | PB-2 | 4200 | 74000 |
| 5. | 9300-34800 | PB-2 | 4600 & 4800 | 78000 |
| 6. | 9300-34800 | PB-2 | 5400 | 88000 |
OUR RECOMMENDATIONS:
1. The minimum and basic wage of the employee may be recommended at Rs.26000/-per month open ended.
2. The concept of Grade Pay and Pay Band as introduced by VI Central Pay Commission may be dispensed by restoring old pay-scale system.
3. VII Central Pay Commission's recommendations should be given effect from 1.1.2014.
4. Annual Increment proposed at 5% instead of 3% on pay on specific dates viz., 1st January & 1st July.
5. Increment be granted to those retire on 30th June and 31st December.
6. Grant two increments for fixation on promotion.
7. Merge Dearness Allowance and treat the same as pay for all purposes as and when Dearness Allowance crosses 50%.
8. The existing formula of computation of Dearness Allowances and its payment w.e.f. 1st January and 1st July of every year may be allowed to continue.
9. The House Rent Allowance may be considered for revision of rates as under:-
'X' Class Cities – 60%
'Y' Class Cities – 40%
'Z' Class Cities – 20%
 10. Expand the scheme of Children Education Allowance to any two children upto Post Graduation and Professional Courses.
 11. Grant Productivity Linked Bonus (PLB) on the Actual Emoluments of the Employees.
 12. Recommend for exemption of Railway Employees from the purview of New Pension Scheme (NPS).
 13.   50%> of Casual Labour Service and Full Service of Temporary Status should be counted for granting Pension.
 14. The rates of Travelling Allowance may be considered for revision by at least three times. The revised rates of Travelling Allowance may be revised automatically by 50% in case DA reaches 50%) of the pay with provision of further revision by 50%) when DA reaches 100% of the pay to maintain balance with the prevailing market rates.
 15. The Over Time Allowance as exists now should continue to be paid and calculated on the basis of actual pay, DA and Transport Allowance. The rate of OT Allowance should be revised as and when the DA is increased and there shall be no ceiling on the amount of Over Time Allowance payable to staff.
 16.  The Night Duty Allowance should be awarded for all the staff performing night duties from 18:00 to 6:00 hrs. The rate of Night Duty Allowance should be computed on the basis of revised pay and be reviewed annually in order to include the DA admissible.
17. The front line staff of Station Master, Booking Clerk, ECRC and other staff like Loco Pilot, Guard, Technical Supervisors, Technicians etc., are supplied uniform and they should appear with Uniform on Duty, neat and clean. This will show the identity of the staff of Railways. An amount of Rs.1000/- per month may be recommended towards Washing Allowance. Similarly, Washing Allowance paid to Track Maintainers may also be revised to Rs.1000/- per month.
 18. Employees who are deputed to attend hazardous and arduous nature of work and unhygienic work involving threat to the limb and life. For e.g. Track Maintainers, Keymen, Night Patrolmen who always on the track and attending the duties are very much prone for accidents. Averagely every year more than 180 Track Maintainers were killed during course of duty hours. All happened due to working on the track constantly under stress. The following are to be granted with Hazardous/Arduous Allowance.
(a) Track Maintainers
(b) Night Patrolmen
(c) Keymen
(d) Pointsmen
(e) Shuntmen
(f)  Staff handling 440 Volts & above equipments.
(g) Skid Porters
(h) Shuting Masters, Shunting Jamadars, Shunting Porters
(i) Trolleyman
(j) TRD Linemen
(k) Patrolling Staff
(l) Overhead Crane Drivers
(m) Gate Keepers
(n) Bridge Field Staff
(o) Riveters
(p) Helpers
(q) Blacksmith
(r) Welders
(s) Fitters
(t) Electro Platters
(u) Cooks, Cook Mates
 19. Casual Leave Period be increased to 12 per year and staff of Open Line Establishments to 15.
 20.Diesel Shed Staff are heavy prone to pollutions. All the duty hours they are supposed to deal with oil and grease.
(a) Oil Pollution:- The engine runs with HSD oil and lubricating oil which contains sulphur and elements which detrimental to the skin. Continuous handling with HSD oil affects the skin and eye irritation resulting various occupational diseases and this will adversely affect the total health.
(b) Sound Pollution:- Exposure to high noise to the decibel level of 180. Since the Loco is always in cranked condition for various type of check, schedules etc., the huge sound not only affects the ear but it causes other mental agony also.
(c) Smoke Pollution:- The Diesel Engine emits exhaust smoke continuously which contains carbon monoxide, sulphur and heavy fumes etc., which are continuously inhaled by staff. This adversely affects the health of the staff causing all the problems of heart and lungs diseases.
(d) Heat Radiation Pollution:– After each heavy schedule, the Diesel Engine is taken to load box for conducting load test to check the performance of the Engine. During load box, the engine generates tremendous heat and sound. Daily on an average 3 to 4 diesel locomotives are being tested in load box. The generation of heat is as high as 600 degree centigrade and above as well as unbearable sound. Staff who are conducting the load test are subjected to tremendous heat radiation from the Engine affecting the general health condition of the staff.
In view of this condition, staff of Diesel Sheds face adverse situations, affecting their health. The percentage of sick and premature deaths is also noticed in several Loco Sheds. Similar conditions are by and large prevailing in Electric Loco Sheds also.
Therefore, 10% of Basic Pay may be granted towards Hazardous Duty Allowance to Diesel Shed/Electric Loco Shed Staff.
 21. Track Maintainers are working not only on the tracks but also patrolling the railway tracks during all seasons facing inclement weather conditions. They conduct night patrolling, monsoon patrolling, cold/hot weather patrolling thus in almost all seasons they patrol the railway tracks. They face snake bites, attacks by wild animals in the course of performing duties. While performing their duties, they have to be very careful to watch front and rear portion of the tracks to save themselves from run over by speeding trains. An amount of Rs.1000/- towards Risk Allowance to each Track Maintainer may be recommended.
 22. The present allowance of Rs.450/- per month to the Gate Keepers as Special Allowance be revised to three times.
 23. The Track Maintainers are presently paid Shoe Allowance. The Track Maintainers report to duty in the morning and required to walk the entire section every day on the ballast carrying tools of 25 Kgs. Weight. Their duty is arduous in nature. They are exposed to heavy rains, severe cold and tough summer condition. The present payment of Shoe Allowance of Rs.900/- per year is inadequate considering the cost in the market. This allowance may be revised to not less than Rs.2500/- per annum.
 24. The Ticket Checking Staff have to update their knowledge with the new technologies like e-ticketing, cell phone booking etc., Apart from verification of travel authorities, the Ticket Examiner has to verify the original photo identity cards of passengers. They also need to be trained for verifying the genuineness of the passengers with the identity card. Due to facing adverse conditions like frequent bomb blasts, fire in the coaches, Travelling Ticket Examiners are prone to risk. They are also expose to threats and attacks by anti social elements in the running train and there are instances of Ticket Examiners pushed out of the running trains. The Ticket Checking staff are also required to acquire knowledge of operation of fire extinguisher. Throughout their career, they perform duties on the train away from headquarters with night duties foregoing social life and family comforts for most of the time.
 In view of the working conditions as explained above, we request that the Ticket Checking Staff may be treated as Running Staff for payment of Running Allowance instead of Travelling Allowance, as well as provision of Running Room facilities on par with Running Staff.
 25.  On sections of heavy density traffic on main lines, the Station Masters and Operating Staff handle 100 to 200 trains per day of 24 hours. However, on certain sections the number of trains dealt varies between 25 to 50. In view of heavy stressful nature of duties of Station Masters and Operating Staff on heavy sections, there is justification to grant additional allowance for these staff. Pay Commission may kindly consider recommending Heavy Traffic Allowance @ Rs.5000/- per month to the Station Masters, Traffic Inspectors and Rs.3000/- per month for the other Operating Staff.
 26. We recommend upward revision of the following important allowances/advances by three times
(a) Children Education Allowance
(b) Hostel Subsidy Allowance
(c) Child Care Allowance (for disabled)
(d) National Holiday Allowance
(e) Breakdown Allowance
(f)  Conveyance Allowance
(g) Nursing Uniform Allowance
(h) Nursing Allowance
(i)  Washing Allownace (Nursing Staff)
(j) Composite Transfer Grant (CTG)
(k) Festival Advance
(l) Bicycle Advance
27. The financial upgradations under Modified Assured Career Progression Scheme (MACPS) granted to the staff after completion of 10, 20 and 30 years regular service should need to be reviewed and recommendations be made for granting atleast five upgradations in the entire service of Railway Employees in their promotional pay-scales hierarchy.
28.There are number of staff acquiring higher qualification/additional qualification which relate to their sphere of duties and also helpful in efficient discharge of the duties. Higher qualification will also give a greater advantage for discharging their duties more efficiently. There are numerous technological changes which took place in Indian Railways and upgrading qualification is very much essential. Moreover, in
view of Computerisation of Indian Railways, paperless work, e-concept, e-learning, operating faxes, date entry logger etc., employees have to match themselves by acquiring higher qualification.
We suggest that not less than 3 special increments may be granted as incentive for acquiring higher qualifications.
29. The leave rules provides for crediting of only 300+15 (earned leave/leave on half average pay) earned by an employee and the leave earned thereafter gets liquidated or unaccounted. This is creating distress among railwaymen in specific.
We appeal to the VII CPC to recommend for crediting Earned Leave/LAP of the employee even beyond 300 days without any ceiling.
30. In the Railways, the women employees' number is on gradual rise since they are not hesitant to join services which they were not in yester years. Women now in Railways are functioning as Station Masters, Loco Pilots, Asst.Loco Pilots, Junior Engineers, Technicians besides in Commercial Department and in Ministerial Cadres. The following facilities may kindly be recommended to the women employees.
(a) Facility of Rest Rooms/Running Rooms for Women Loco Pilots:- Women railway loco pilots are required to work on trains who are to stay away from the Headquarters. While Running Room facility exist for men, the women loco pilots do not have similar facility. There is every need that this facility is provided to the women loco pilots.
(b) Provision of Child Care Centres:- Now that the number of working women is substantially high, there is every need for constructing and operating the child care centres. There are many working women whose other spouse also is an employee. If none others in the family is with them to take care of their needs, there is every need that Creche facility is required to be provided by the railway administration. It will pave way for hassle free environs and facilitate working women to concentrate on their jobs.
(c) Voluntary Retirement of working women in Railways:- As age advances, the women employees develop hormonal, metabolic and physiological changes which may cause serious problem for continuing in service and their efficiency also affects. In Railways, the nature of duties directly connected with safety and efficiency. In such a situation, if any women employee intends to proceed on voluntary retirement,
on her completion of 15 years of qualifying service, notional benefit of another 5 years be extended and retirement allowed with full benefits.
31. The basic pension to be determined as 67% instead of 50% on the last pay drawn or 10 monthly average emoluments.
32. Payment of pension to the existing pensioners and family pensioners should be increased adequately considering the present scenario as was considered and recommended by the V & VI CPC, which were accepted by the Government of India.
33.  The period of commutation of pension presently is 15 years for restoration of basic pension which may be reduced to 12 years.
Sir, we are confident with all the experience at your command, you will kindly bestow full attention to the above suggestions as made by SCRE Sangh and accordingly recommend pay-scales and other allowances to the Railway Employees, duly taking into consideration of their nature of duties which are uncomparable with any other Central Government Employees.
Finally, we thank you for having given an opportunity to meet you and present this Memorandum and also for hearing our views very patiently.
Thanking you,
 Yours faithfully,
 Sd/-
(G.Prabhakar Andrew)
 For General Secretary
Source: NFIR