Uploading of NPS contributions of KVS employees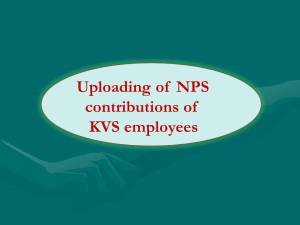 GOVERNMENT OF INDIA
MINISTRY OF  HUMAN RESOURCE DEVELOPMENT
RAJYA SABHA
UNSTARRED QUESTION NO-833
ANSWERED ON-01.12.2014
Uploading of NPS contributions of KVS employees
 833 .Dr. Anil Kumar Sahani
(a) whether the contribution under the New Pension Scheme (NPS) of all employees of Kendriya Vidyalaya Sangathan (KVS) have not been uploaded in NSDL;
(b) if so, the details thereof and the reasons therefor;
(c) whether legacy amount of large number of NPS subscribers of KVS have not been uploaded in old cases;
(d) if so, the details thereof, school-wise and region-wise; and
(e) by when the legacy amount of all KV employees is likely be uploaded?
 ANSWER
MINISTER OF HUMAN RESOURCE DEVELOPMENT
(SMT. SMRITI ZUBIN IRANI)
 (a) & (b) No, Sir. The contribution of New Pension System (NPS) is uploaded regularly on monthly basis in National Securities Depository Limited (NSDL) by Kendriya Vidyalaya Sangathan (KVS) Headquarters and 30 Pay & Accounts Offices except those cases where Permanent Retirement Account Number (PRAN) has not been allotted by NSDL.
 (c) to (e) No, Sir. As on 19.11.2014, there are 105 cases which have not been uploaded. Out of these 40 cases are of existing KVS employees and necessary instructions have been issued by KVS (Hqrs.) to the concerned Regional Offices for uploading the legacy amounts. The remaining 65 cases pertaining to ex-KVS employees have not been uploaded for want of information from the subscribers. The school-wise and region-wise details are annexed.
KVS -School -wise and region-wise details are annexed