Fresh Empanelment of Hospitals, Diagnostic/Imaging Centers, Exclusive Eye & Dental Clinics under CGHS Pune through Continuous Empanelment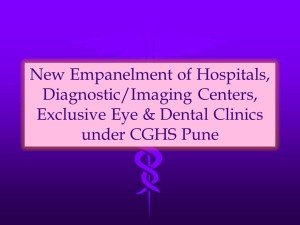 GOVERNMENT OF INDIA
Office of the Additional Director
CENTRAL GOVERNMENT HEALTH SCHEME
"Swasthya Sadan", 2nd Floor; Mukund Nagar, Pune – 411 037
Tel: 020-24262831           E-Mail: ad.pu(a)cghs.nic.in
FAX: 020-24269461         http://cghspune.gov.in
F No: CGHS/PNE/Estt. 4-13/2014-15/7959
Date: December 22, 2014
OFFICE MEMORANDUM
Sub: Fresh empanelment of Hospitals, Diagnostic/Imaging Centers, Exclusive Eye & Dental Clinics under CGHS Pune through Continuous Empanelment.
With reference to OM S.11045/36/2012/CGHS/HEC dated 10/12/2014, the undersigned is directed to state that continuous empanelment scheme has been initiated in CGHS Pune for empanelment of Hospitals, Diagnostic/ Imaging Centers, Exclusive Eye & Dental Clinics.
Accordingly, in continuation of this Office OM of even number dated 13/11/2014, in addition to the list of hospitals, Diagnostic/Imaging Centers, Exclusive Eye & Dental Clinics already empanelled, the list of hospitals enclosed herewith are also empanelled. The following hospitals should be treated as included in the existing list already notified with same terms and conditions as indicated in the office memorandum dated 13/11/2014. The empanelment of the hospitals mentioned below shall be for a period of two years from the date of this notification.
Sd/-
ADDITIONAL DIRECTOR
CGHS, PUNE
Annexure to OM NO. CGHS/PNE/Estt. 4-13/2014-15/7959
dated 22/12/2014
EMPANELMENT OF HOSPITALS UNDER CGHS PUNE
THROUGH CONTINUOUS EMPANELMENT – 2014
S.No

Name of Hospital

Address

NABH/NABL Status

Contact NO.

Facilities Empanelled for

1

Deendayal

Memorial

Hospital

926, F.C. Road, Shivaji Nagar, Pune – 411004

Non-NABH

020-

66498888

Cardiology & Cardiothoracic Surgery, Endoscopic Laparoscopic Procedures, Bariatric Surgery, Gynaecology & Obstetrics, Orthopaedic Surgery including Joint Replacement, General Medicine, General Surgery, Neurology 8 Neurosurgery, Urology & Nephrology (including Dialysis), Gastroenterology & Gl Surgery, Vascular & Plastic Surgery, Paediatrics, Eye & ENT, Cancer Treatment (Surgery, Chemotherapy), Diagnostics & other available facilities

2

Karne Hospital Pvt. Ltd.

Krishna Chambers, Near Laxmi Narayan Theater, Pune- Satara Road, Pune-411037

Non-NABH

020-

24264213

All orthopaedic treatment and surgery including Arthroscopy and Joint Replacement surgeries.
Source: http://msotransparent.nic.in/