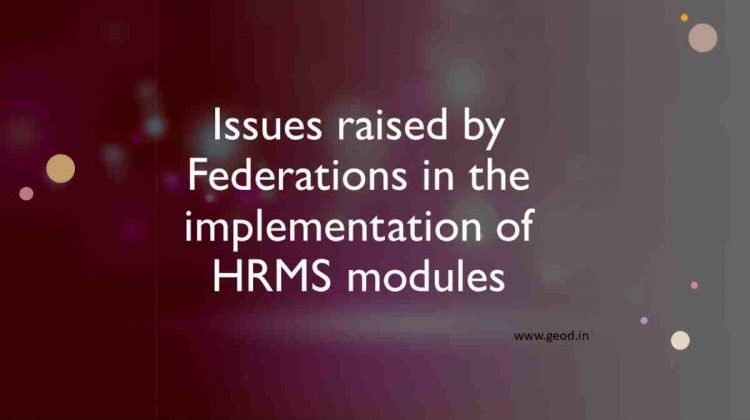 Issues raised by Federations in the implementation of HRMS modules
GOVERNMENT OF INDIA
MINISTRY OF RAILWAYS
(RAILWAY BOARD)
No.PC-VII/2021/HRMS/13/FEDERATIONS
New Delhi, dated 22.02.2021
The General Manager, HRMS
CRIS, 4th Floor
ITPI Building, 4-A,
IP Estate, New Delhi – 110 002
Sub: Issues raised by Federations in the implementation of HRMS modules reg.
Ref: (i) AIRF letter No.AIRF/567 dated 11.02.2021, No.AIRF/82 dated 20.01.2021 & 11.01.2021, No.AIRF/24(C) dated 06.01.2021, No.AIRF/82(290) dated 24.12.2020 & 05.11.2020
(ii) NFIR letter No.I/15/2021 dated 11.02.2021 & 15.01.2021 and No.1/15/2020 dated 29.10.2020 & 23.11.2020
Subsequent to the launch of 8 modules of HRMS, various issues have been highlighted by AIRF and NFIR in the functioning of modules especially e-pass module and the server connectivity problems that are causing hardships to the employees both serving and retired all across the Indian Railways.
2. Copy of the representations submitted by AIRF and NFIR (referred above) is enclosed herewith. It is requested that the issues raised by the Federations may please be addressed and point wise remarks may be forwarded for providing a suitable reply to the Federations at the earliest.
3. This issues with the approval of competent authority.
(Jaya Kumar G)
dy. Director, PC-VII & HRMS
Railway Board
Ph.No.011-47845125