7th Pay Commission Pay Matrix Table (Civilian Employees) 
7th pay commission Pay Matrix table (Civilian Employees). The Commission has designed the new pay matrix keeping in view the vast opportunities that have opened up outside government over the last three decades, generating greater competition for human resources and the need to attract and retain the best available talent in government services. The nomenclature being used in the new pay matrix assigns levels in place of erstwhile grade pay.
---
7th Pay Commission Pay Matrix PDF Download Click Here
---
The pay matrix comprises two dimensions. It has a "horizontal range" in which each level corresponds to a 'functional role in the hierarchy' and has been assigned the numbers 1, 2, and 3 and so on till 18. The "vertical range" for each level denotes 'pay progression' within that level. These indicate the steps of annual financial progression of three percent within each level. The starting point of the matrix is the minimum pay which has been arrived based on 15th ILC norms or the Aykroyd formula
The pay matrix will help chart out the likely path of pay progression along the career ladder of any employee. For example, it can be clearly made out that an employee who does not have any promotional prospects in his cadre will be able to traverse through at least three levels solely by means of assured financial progression or MACP, assuming a career span of 30 years or more.
A number of grievances or so called anomalies have been placed before the Commission. Many have their roots not in the recommendations made by the VI CPC, but in the subsequent modifications made by the government and the resultant orders issued by it. Often these resulted in anomalies, many of which could not be rectified till date. Wherever possible we have tried to remove these anomalies. We also suggest that an appropriate body may be created to look into anomalies, if any arising out of the implementation of the recommendations of the Seventh CPC.
---
---
---
---
7th Pay Commission Pay Matrix Civilian Employees (Revised)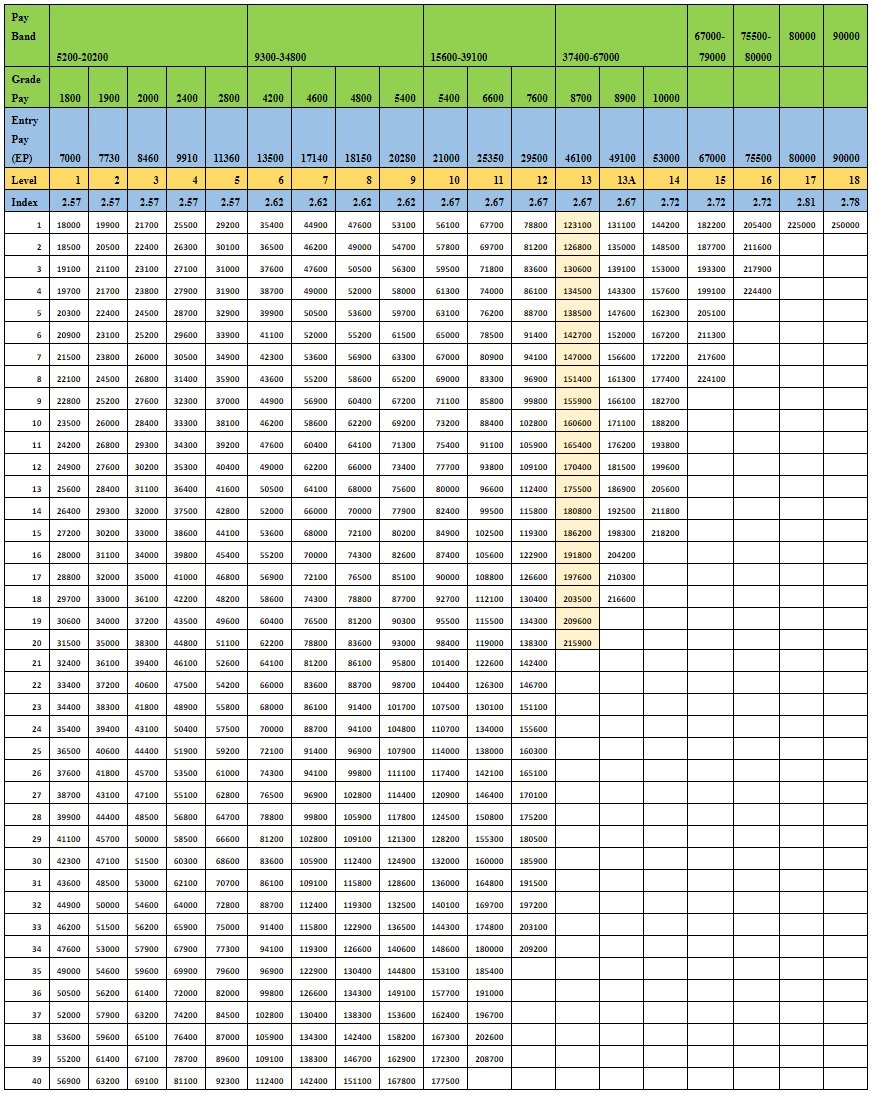 ---
7th CPC Revised Pay Matrix Pdf Download
Pay Matrix Level 1-5 | Pay Matrix Level 6-9 | Pay Matrix Level 10-12 | Pay Matrix Level 13-14 | Pay Matrix Apex Scale
---
7th Pay Commission Pay Matrix Level 1 to 5
---
7th Pay Commission Pay Matrix Level 6 to 9
---
7th Pay Commission Pay Matrix Level 10 to 12
---
7th Pay Commission Pay Matrix Level 13 to 14
---